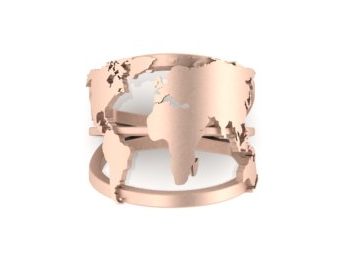 Dear Gaia,
My destiny is to travel and experience the beauty you offer from its people of much diversity, the animals that fascinate to the land, air and water elements have to offer. Your gifts keep me curious and so travel is when I can 'be'. It is through this calling of being a nomad that heals me one destination at a time by opening my soul to the vibrancy of life, pushing me beyond my perceived boundaries and treasuring each experience in order to add a precious gem in my bejewelled memory box.
And so I share this with you this…I have had a ring made…to remind me of your magnificence…a ring that reminds me of what's possible and most of all that I AM possible.
When I wear this ring, I vow to be grateful for your gifts, to love life and be.
Love, 
Nomad
Love, Nomad is a map of the world in the form of a ring.
This ring comes in either solid Sterling Silver, solid 14K gold or solid 18K gold.
Our map includes North America, South America, Africa, Asia, Europe, Australia, New Zealand, Madagascar, Iceland, The Caribbean, Japan, Korea, a mix of South Asia – Philippines, Malaysia and Indonesia. Touch the equator to feel its warmth and the difference between the northern and southern hemispheres.
The shape of the ring is a 'D' shape representing the letter 'D' as in 'Destined to Travel' or always planning the next 'Destination'. The shape lends itself to be worn in various ways. The flat side can be worn on the bottom, left or right side depending on finger worn for comfort.
Made of 3 bands this reminds the nomad of her/his past, present and future. The equator is the present. When viewed from the side, the 3 bands make the letter 'W' for World/West or 'E' for Earth/East. The 3 bands meet in the back to become one; this is where the wearer's experiences all converge to be one…one with the wearer.
Wear 'Love, Nomad' to be centred in any part of the world and a place to be in peace, gratitude or love anywhere in the world.
Travel, 'Love, Nomad', Travel.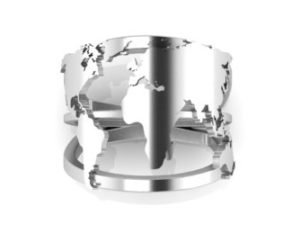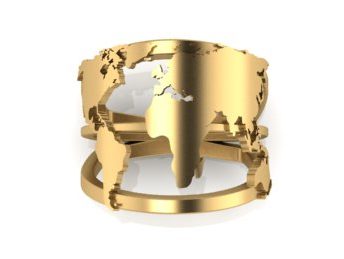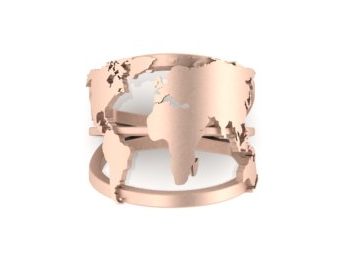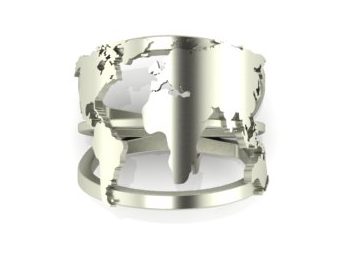 With your solid sterling silver purchase $15 goes back or with your solid 14K gold purchase $50 goes back to Planeterra to directly support small business tourism in developing countries. This means – food in mouths, clothing on backs and people who can live respectably… because we are all worthy!

Each 'Love, Nomad' solid sterling silver and solid gold ring are custom and made to order.
All sales are final, no returns, no exchanges.
For 18K Solid Gold in either Yellow, Rose or White or if your size exceeds what is offered, please Contact Us for a custom quote.